Gold Plastic Optical Fiber Kit (4 converters + switch)
Optical Fiber Quality for Medium and Large Homes
Maximum Reliability and Stability Throughout the House

Extend your connection to 4 points with plastic fiber quality up to 1 Gbps.
4K streamers, gamers, students, telecommuting professionals... this solution is ideal for everyone.
The Snap Data Gold kit offers you multiple high-fidelity connectivity options with fiber optic for home or business.
The best way to extend your fiber optic or ADSL connection to up to 4 additional points in your office or home without losses.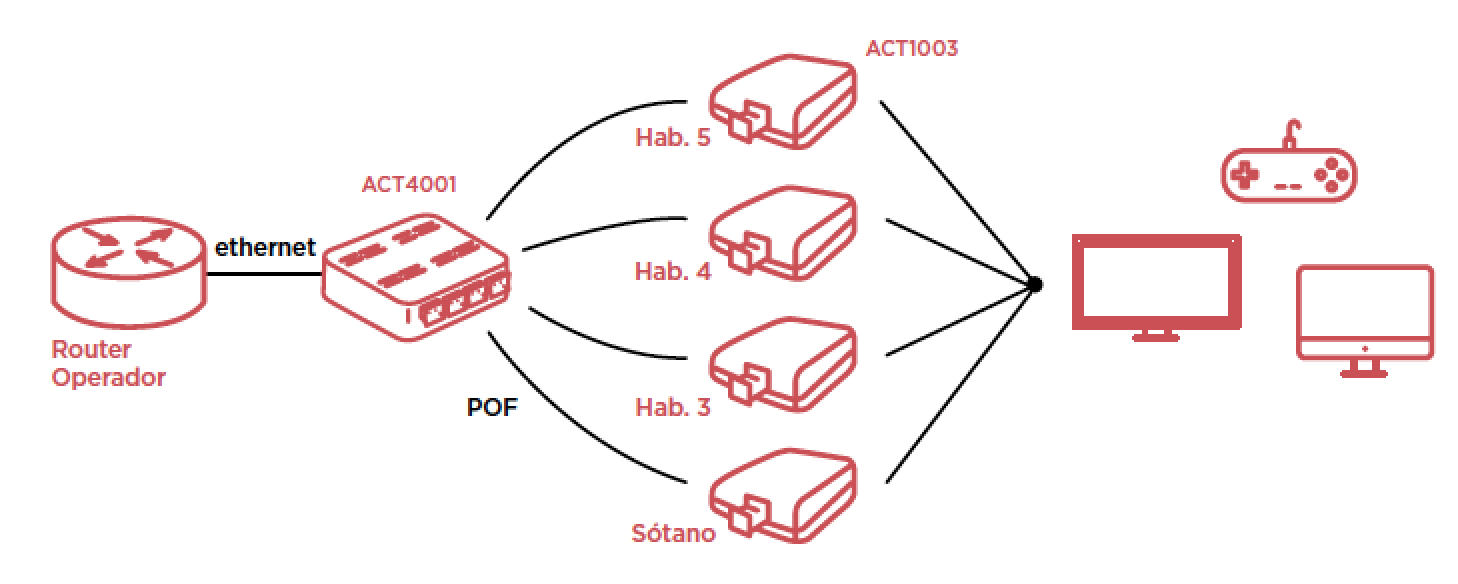 Plastic Optical Fiber in Style with Snap Data Gold Kit!
The SANAP DATA Gold kit is one of the most complete in our range for data optimization. With a 4-port FOP switch, you can distribute your signal throughout your home without loss, even if it is large, and every room will receive the data from your operator's router intact, up to 4 points.
It's like doing construction work to install internet cable throughout your house...but without the construction work. If you experience major decreases in performance due to walls, electronic devices, or other users connected simultaneously to your network, this kit will completely change the situation.
WHO IS THE SNAP DATA GOLD KIT FOR?
This kit is ideal for those who are clear that connectivity in their large home should not be a problem and want to solve it in the most definitive and resounding way, without leaving gaps or dead zones.
Are several people using the internet at the same time with high demand? No problem. With the FOP Switch included in this kit, each user will receive sufficient speed at all times since each created point will be STABLE, without variations or fluctuations of any kind. Bottlenecks are a thing of the past, and if combined with WiFi emitters, saturated channels are also a thing of the past.
Of course, it is also ideal for minimizing ping time in video games and for digital televisions.
HOW DOES THE SNAP DATA GOLD KIT WORK?
Up to 4 additional access points with fiber optic quality can be created at the speed that reaches your router up to 1 Gbps.
The converters can transport the signal up to 100 meters away between two devices. With this kit, you will take the signal from the router to other points where you can connect devices such as game consoles, TVs, computers, or WiFi emitters. The performance level of a device that receives up to 1 Gbps is basically high performance; it will not experience communication interruptions or slow downloads. Ideal for telecommuting situations. It will completely eliminate connectivity problems. These devices are also very effective for connecting alarm systems, as they do not allow signal theft and also for solar energy monitoring systems by connecting directly to the inverter.
Consult your case with us! Also through WhatsApp.
WHAT IS INCLUDED?
The Snap Data Gold Kit consists of 1 ACT 4001 switch with 4 FOP outputs and an RJ45 to connect to the router. 4 ACT1003 converters with a POF and 3 RJ45, all with their respective power sources, plus 80 meters of FOP cable, 2 cutters, and 6 Ethernet cables. With this kit, you can create up to 4 additional connection points with fiber optic quality, taking advantage of 100% of the bandwidth contracted with the operator.

If you need more meters of POF fiber than those indicated in the kit, you can purchase additional rolls that are 10 meters until you meet your needs. The maximum distance between two points is 50 meters. We will send you a single roll with the sum of the meters in the kit plus the additional rolls purchased.

The kit includes an installation manual or you can watch the installation video tutorial on our website.